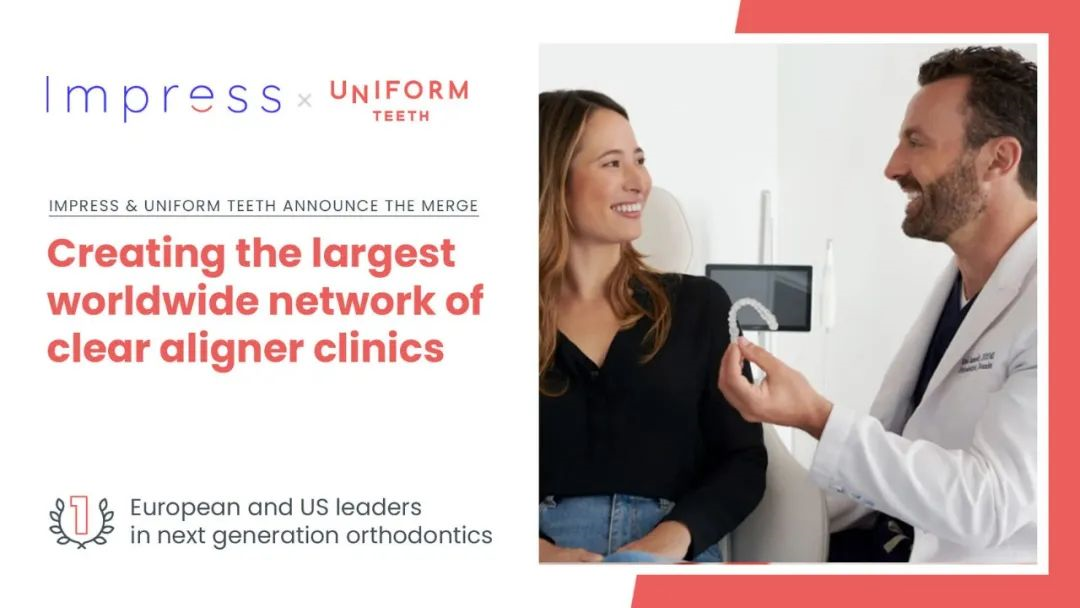 Impress and Uniform Teeth, are excited to announce their merger with the objective to create the largest worldwide network of advanced invisible orthodontic clinics. Impress and Uniform Teeth currently employs more than 500 orthodontist, dentists and clinical staff providing an industry leading platform for career growth, continuous learning and the opportunity to fulfil the unmet patient demand for Invisible orthodontics.

Impress was founded in 2019 in Barcelona by renowned orthodontist Dr. Khaled Kasem and serial entrepreneurs Diliara and Vladimir Lupenko, with the idea of combining the best of traditional orthodontic clinics with the most innovative technology in the sector.

In just 3 years Impress has become the number one brand and category leader in Europe. The company already has more than 130 clinics across 8 different countries, including all strategic markets: Spain, Italy, Germany, France, and the UK, creating a unique and scalable business model with a strong base of proven success.

Uniform Teeth was founded in San Francisco in 2018 by Meghan Jewitt and Dr. Aamodt. From day one Uniform Teeth was focused on delivering high-quality orthodontic care to more people. Since then Uniform Teeth has grown to 8 locations in San Francisco, Chicago, and Seattle, and developed proprietary technology with a focus on AI-driven digital medical records and patented 3D treatment planning software.

With this merger, Impress and Uniform Teeth will be present in the most important and the largest global clear aligner markets that account for 70% of the total clear aligner industry. Thanks to the recommendation CareCapital, the lead investor in Impress' previous $50M Series A round, Impress jumped on the opportunity to enter the crucial US market with a strong partner like Uniform Teeth. CareCapital has played an active role in the evolution of Impress and in supporting its growth initiatives.

Impress and Uniform Teeth have bet on their fully owned tech-enabled orthodontic clinics that has led to industry leading sales conversion rates, an exceptional customer experience (NPS 84), and best-in-class clinical outcomes, all driven by a technology stack that is getting harder to replicate by the day.

The company plans to use this momentum and continue the expansion in the US with the objective to operate 50+ clinics by the end of 2023.
Diliara Lupenko, Co-Founder and COO of Impress, said: "Our expansion to North America was undoubtedly the next step for Impress, and we are so proud to be working with Uniform Teeth. We were looking for a company that shared a similar business vision and philosophy/company values that above all extolled aspects such as innovation and personalization, and CareCapital recommended and put us in touch with Uniform Teeth. From this partnership, we will continue to offer invisible orthodontic treatments of the highest quality with a personalised service, supervised by a highly experienced medical team.

Meghan Jewitt, CEO & Co-Founder of Uniform Teeth, said: "As a company, we're committed not only to world-class patient care but also to innovation which has helped us to revolutionise the orthodontic sector. Teaming up with Impress allows us to combine our technology systems into the leading orthodontics platform on the market today. In addition, it will allow us to expand faster across North America to fully realise our mission of offering exceptional, next-generation care to everyone. "